What is a Managed Service Provider?
We provide a range of IT services and support for customers who rather focus on the core of their business rather than manage IT infrastructure.
With this business relationship we look at ourselves as your technical partner, providing your team with valuable resources and insight into different ways we can use technology to help secure, streamline, and grow your business.
Utilizing our single pane of glass methodology for management, we provide our clients the 5 9's of reliability every business owner wants without your team having to manage any of the technical infrastructure.
Who do we Help?
Start-Ups

Home Offices
Independent Contractors
Individuals
Remote Workers
Work From Home
Small & Medium Businesses

Accounting
Architecture
Construction
Professional Services
Retail
Enterprises

Aerospace
Governments
Internet Service Providers
Law Firms
Manufactures
How do managed services work?
| | |
| --- | --- |
| Remote Monitoring & Management Agent | Nationwide Coverage |
| Our RMM agent gets installed on all company computers and servers. With that installed we obtain visibility into your infrastructure allowing us to be proactive vs. reactive. | Through partnerships with other MSP's we can provide coverage in over 100+ cities and growing nationwide. Giving us the ability to cover you outside of LA, SF, and SD. |
| Ticket System | Virtual CTO |
| Our ticketing system tracks user issues helping us identify systemic problems to be resolved. The desktop agent makes it simple to open tickets for support. | The account manager assigned to you is responsible for learning how your company uses technology. Providing resources and suggestions to help with operations, planning, and deployments. |
| Managed Detection & Response | Patch Management |
| We include BitDefender Gravityzone MDR for anti-virus protection of all endpoints that we manage. | We manage the patch level of Operating systems and Line of Business (LOB) applications used within your organization. |
Back
What do we Manage?
Internet Service
Phone Service
Web Hosting
Desktop Users
Work From Home Users
Servers
NAS
Backup
File Shares
Line Of Business Software
Line Of Business Hardware
Microsoft 365
Google Workspace
Quickbooks
Point of Sale Systems
Wireless Networks
Wired Networks
SD-WAN
Mobile Devices
Peripheral Devices
Endpoint Detection & Response
Vulnerabilities
Most things with a button..
Our Methodology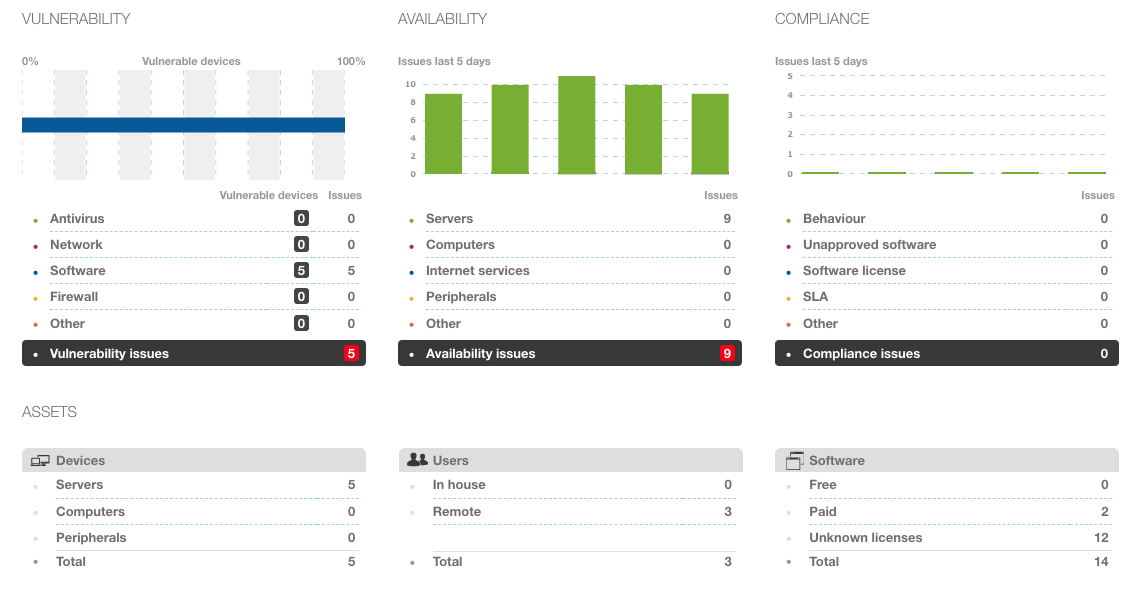 Our single pane of glass methodology for management means our team is always monitoring our control panels that are responsible the mitigating vulnerabilities, keeping systems and applications updated, and overall service availability for services hosted internally that are relevant to business operations.
| | |
| --- | --- |
| Prevent | Monitor |
| By using industry best practices for related services relevant to your infrastructure, we aim to prevent issues with proper maintenance and patching so that systems are always operational. | Monitoring with reporting, and a single dashboard to manage and monitor customer owned equipment, usage and uptime metrics. |
| Respond | Remediate |
| Alerts generate a ticket for our support team that prompts us to take action when an outage is identified or a machine falls out of the usage metrics we've identified. | Resolving new issues, or systemic ones that are seemingly unsolvable are our specialty. Solving problems is our business! |
Why customers choose us!
| | |
| --- | --- |
| Pricing | Our pricing is designed to scale based on our customers org size. |
| Responsiveness | Our support contracts include SLA's for response times. |
| Quality | Our goal is always to solve problems the correct way. |
| Experience | Our team is comprised of industry experts and career professionals. |
| Hardware and Software | We manage both hardware and software. |
| Managed Detection & Response | Modern malware detection. |
| Vulnerability Management | Our Vulnerability suite helps us secure your environment. |
| Business Development | Our team is available to you for more than just support, we look at ourselves as the Virtual CTO's of your business, looking for ways to enhance your business though automation and process analysis. |
How about a Demo?
Use the button below to schedule a demo with our team!