What is a Managed Service Provider?
We provide a range of IT services and support for customers who rather focus on the core of their business rather than manage IT infrastructure.
With this business relationship we look at ourselves as your technical partner, providing your team with valuable resources and insight into different ways we can use technology to help secure, streamline, and grow your business.
Utilizing our single pane of glass methodology for management, we provide our clients the 5 9's of reliability every business owner wants without your team having to manage any of the technical infrastructure.
Who do we Help?
Start-Ups

Home Offices
Independent Contractors
Individuals
Remote Workers
Work From Home
Small & Medium Businesses

Accounting
Architecture
Construction
Professional Services
Retail
Enterprises

Aerospace
Governments
Internet Service Providers
Law Firms
Manufactures
How do managed services work?
| | |
| --- | --- |
| Remote Monitoring & Management Agent | Nationwide Coverage |
| Our RMM agent gets installed on all company computers and servers. With that installed we obtain visibility into your infrastructure allowing us to be proactive vs. reactive. | Through partnerships with other MSP's we can provide coverage in over 100+ cities and growing nationwide. Giving us the ability to cover you outside of LA, SF, and SD. |
| Ticket System | Virtual CTO |
| Our ticketing system tracks user issues helping us identify systemic problems to be resolved. The desktop agent makes it simple to open tickets for support. | The account manager assigned to you is responsible for learning how your company uses technology. Providing resources and suggestions to help with operations, planning, and deployments. |
| Managed Detection & Response | Patch Management |
| We include BitDefender Gravityzone MDR for anti-virus protection of all endpoints that we manage. | We manage the patch level of Operating systems and Line of Business (LOB) applications used within your organization. |
What do we Manage?
| | |
| --- | --- |
| Network Infrastructure Management | Cloud Services Management |
| We manage and maintain the hardware, software, and services required to support your business's network infrastructure, including routers, switches, firewalls, and servers. | Our team provides and manages cloud services such as storage, virtualization, and hosting to help your business scale and grow. |
| Backup and Disaster Recovery Services | Cybersecurity Management |
| We provide data backup and recovery services to protect your business against data loss and ensure business continuity in the event of a disaster. | Our team manages and monitors your business's cybersecurity defenses, including firewalls, intrusion detection/prevention systems, antivirus/anti-malware software, and employee security awareness training to keep your data and network secure. |
| Help Desk Support | Endpoint Management |
| Our technical support team provides prompt and efficient support to resolve issues related to hardware, software, and network connectivity. | We manage and maintain your business's endpoint devices, such as laptops, desktops, and mobile devices, ensuring that they are up-to-date with the latest software and security updates. |
| VoIP and Unified Communications Management | IT Consulting and Strategy |
| We provide and manage voice-over-IP (VoIP) and unified communications services, including video conferencing, instant messaging, and presence to help your business stay connected and productive. | We provide IT consulting and strategic planning services, helping your business develop IT strategies that align with your goals and budget. |
| Vendor Management | Database Management |
| We manage vendor relationships and coordinate technology purchases and installations, ensuring that all hardware and software are compatible and meet your business's needs. | We manage and maintain databases, ensuring data integrity, security, and performance to help your business operate efficiently. |
| Business Continuity Planning | Performance Monitoring and Reporting |
| We help your business develop and implement business continuity plans to ensure that critical systems and services can be restored quickly in the event of a disruption. | We monitor system performance and provide regular reports, identifying areas for improvement and making recommendations for optimization to help your business run smoothly. |
| Compliance and Regulatory Management | Asset Management |
| We help your business comply with industry-specific regulations, such as HIPAA, PCI, and GDPR. | We manage and maintain an inventory of hardware and software assets, ensuring that your business has an accurate record of your technology investments. |
| Project Management | Incident Response Planning |
| We manage IT projects from planning and design to implementation and testing, ensuring that your projects are completed on time and within budget. | We help your business develop and implement incident response plans to mitigate the impact of security incidents and minimize downtime in the event of an incident. |
Our Methodology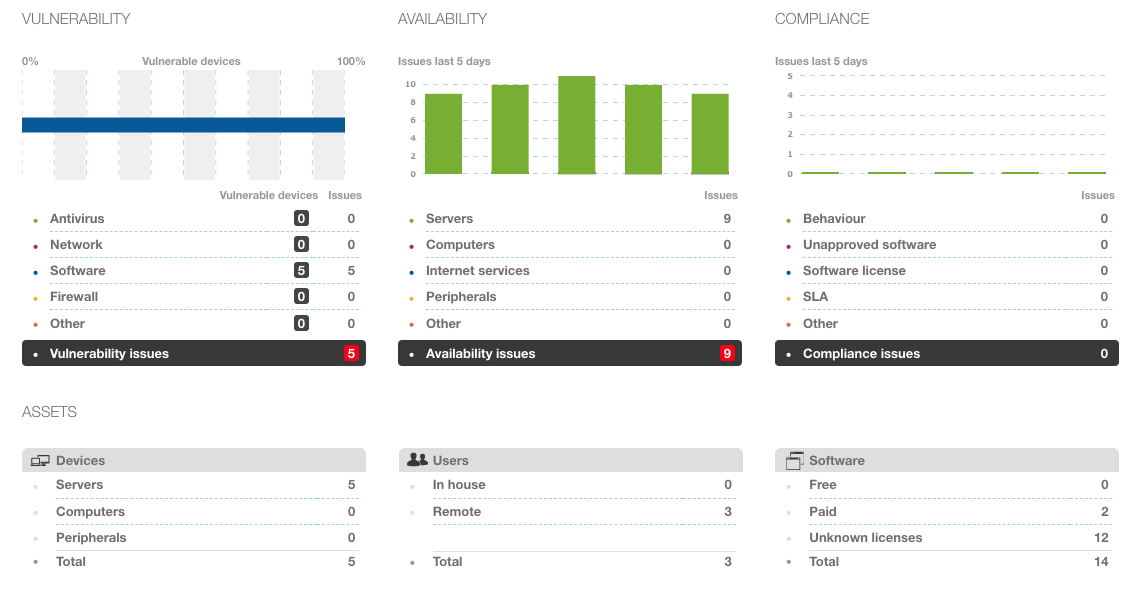 Our single pane of glass methodology for management means our team is always monitoring our control panels that are responsible the mitigating vulnerabilities, keeping systems and applications updated, and overall service availability for services hosted internally that are relevant to business operations.
| | |
| --- | --- |
| Prevent | Monitor |
| By using industry best practices for related services relevant to your infrastructure, we aim to prevent issues with proper maintenance and patching so that systems are always operational. | Monitoring with reporting, and a single dashboard to manage and monitor customer owned equipment, usage and uptime metrics. |
| Respond | Remediate |
| Alerts generate a ticket for our support team that prompts us to take action when an outage is identified or a machine falls out of the usage metrics we've identified. | Resolving new issues, or systemic ones that are seemingly unsolvable are our specialty. Solving IT problems is our business! |
What our customers have to say!
To anyone needing fast, efficient, brilliant minds to solve any computer problem, you must call TJ & His Team at Xcape, Inc. I met TJ through people in the entertainment business who praised his excellent skill and people skills! Every single PICKY person I have referred to TJ that person called almost instantly to thank me. His solutions saved me and my law firm thousands of dollars several times. Recently, we had a security breach in our office, and within a few hours, our website and office were secure and "up and running." If it were anyone else, this would have taken weeks.

Usually, TJ & his team will work "off-site" by sharing your computer on-line to solve the problem immediately and "right before your eyes." He has never wasted a second of my time or my money. I have been practicing law for 25 years and believe he is the most cherished outside vendor with whom we have ever had the pleasure to do business.

Karen Gold, Karen Gold Law PC, Beverly Hills
I am astonished by TJ's speed, grace, and brilliance... he fixed odd aspects regarding how my computer and phone were interacting (or not interacting). Contacts were syncing (or not syncing) and generally cleaned up my computer world in ways that have changed my computer existence ... BRILLIANT MAN, and GREAT SERVICE!!!!!!!!!

R N G, Producer, Los Angeles
We had a great experience with this company. They came to our office, diagnosed our internet problem and then gave us clear instructions on what to tell our internet provider and even offered to deal with them for us. They also made sure that our computers and printers were working properly. They were very professional we will definitely be calling them for any future tech problems.

Danielle S., MNR Coop, Woodland Hills
Why customers choose us!
| | |
| --- | --- |
| Pricing | Our pricing is designed to scale based on our customers org size. |
| Responsiveness | Our support contracts include SLA's for response times. |
| Quality | Our goal is always to solve problems the correct way. |
| Experience | Our team is comprised of industry experts and career professionals. |
| Hardware and Software | We manage both hardware and software from any vendor. |
| Managed Detection & Response | Modern malware detection and anti-virus protection. |
| Vulnerability Management | Our Vulnerability suite helps us secure your environment. |
| Business Development | Our team is available to you for more than just support, we look at ourselves as the Virtual CTO's of your business, looking for ways to enhance your business though automation and process analysis. |
How about a Demo?
Use the button below to schedule a demo with our team!